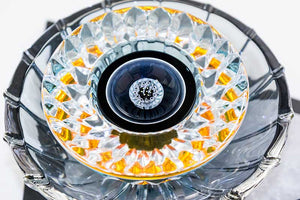 "I don't want people to have to take a second mortgage on their home just because they fall in love with a piece of glass," Curt Brock jokes. Many years later, I still remember it as I 
heard it 
yesterday. 
---

Regaled as excellent craftsmanship, Jan Peyser Jewelry™ is worn by happy customers both near and far.  Captivating designs reflect graceful and dynamic balance inspired by flora, the wind, ocean currents, the art of dance, and her imagination.  Every  piece of jewelry is made individually from concept to creation, and Jan works primarily in Argentium® silver, a highly tarnish-resistant sterling silver. Invited as an honorary member of the Argentium® Silver Guild in England, she is a licensed user of Argentium® silver, and her Celestial earrings are displayed in their website's Gallery, which spotlights several Argentium® artists from around the world. A licensed user of the brand and trademarks,...
---

The truth is, I didn't know I had an artistic bone in my body until I was 40 years old!! My husband and I have date nights every month or so and try things we have never tried before. A friend was taking a stained glass class for a few weeks and asked if we wanted to try it with her. 
---
"Exploring the magic of glass fuels my inspiration."   Eclipse Gallery is proud to represent artist Roxann Astra Slate with her unique work! Roxann works in the interplay of what she wants the glass to become and what the glass wants to be. Each piece is negotiation. It's important to her that every piece is well crafted and easy to wear. The jewelry doesn't live until it's worn. Each piece is made by working glass rods in an open 2,000 degree flame. Using heat, gravity, and minimal tools, Slate individually shapes each component. All findings are sterling silver. Roxann grew up in...
---
"Life should not be a journey to the grave with the intention of arriving safely in a pretty and well-preserved body, but rather to skid in broadside in a cloud of smoke, thoroughly used up, totally worn out, and loudly proclaiming, 'Wow! What a ride'."— Hunter S. Thompson The sad news came as a total surprise after my several tries to contact Mark regarding two new orders of his work. I couldn't believe it when I saw the dreadful news on his website! The artistic man has passed away! I still remember his voice on the phone, he just helped us handle...